Project Management National Conference
Hyderabad, India
11 - 13 September 2014

Project Management – the mantra for sustainable growth

Project Management National Conference 2014 is a two and half day professional development event, conducted by Project Management Institute (PMI) India and hosted by PMI Pearl City Chapter, Hyderabad.

The theme of this conference is "Project Management – the mantra for sustainable growth". It provides an opportunity for Project Management Practitioners across industries, government, academia, NGOs etc., to exchange ideas on the challenges and emerging trends in projects that are contributing to national objectives.


Highlights
Over a 1000 professionals from diverse fields from across the country are expected to attend the conference
State-of-the-art conference facilities at premium location in Hyderabad International Convention Centre (HICC), Hyderabad
Conference Duration of 2.5 days
Impactful projects presented as case studies
Choice of informative technical sessions running as parallel tracks
For the first time PMI India National Conference will feature the topic - Project Management - the mantra for sustainable growth
Dynamic panel discussion on a topical subject
Paper presentations by industry experts
Visionary speakers sharing their wealth of knowledge
Convenience of registering on-line from home/office
Kalvakuntla Taraka Rama Rao
Minister of IT & Panchayat Raj
Telangana State

Mr. Alyque Padamsee
Indian theater personality
and ad film maker

Sri Tridandi Srimannarayana Ramanuja Chinna Jeeyar Swamiji
Vedic preacher
Mr. Jayesh Ranjan
Managing Director
APIIC
Mr. V. Laxmikanth
Managing Director
Broadridge
Mr. Ricardo Triana
Director, Chair
2014 PMI Board of Directors
Mr. Shakti Sagar
Managing Director
ADP Pvt. Ltd.
Mr. VVS Laxman
Former Indian Cricketer
Mr. NVS Reddy
Managing Director
Hyderabad Metro Rail Limited
Mr. Ramesh Iyer
Managing Director
Mahindra & Mahindra Financial Services Limited
Alok Lall
Business Group Director
Microsoft Office Department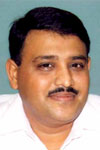 Mr. Hari Ranjan Rao
Secretary, IT & Public Service Management
Govt. of Madhya Pradesh

Dr. Sanjeevan Bajaj
CEO
FICCI Quality Forum

Kalvakuntla Taraka Rama Rao
Minister of IT & Panchayat Raj
Telangana State

Mr. Alyque Padamsee
Indian theater personality
and ad film maker

Sri Tridandi Srimannarayana Ramanuja Chinna Jeeyar Swamiji
Vedic preacher